Mid-February 2020 Update
Surely this can't last..
This is my mid-month update
My Portfolio

Portfolio Performance
YTD +29.8% Since Jan 1 2020
Crazy I know, but the portfolio had been hammered towards the ends of 2019, so some of this is compensating for the beatdown.
I keep thinking that some of the companies may sell off soon, and indeed they might, but I'm interested in the long game, so while this is transiently pleasant, the view 5 years out is far more important, and as shown at the end of last year, drawdowns will happen and they will hurt.
I accept that I can't time the market, so I don't try. It makes more sense to buy companies that I think will outperform over the next 5 years.

$NVTA has gone from red to green. It's a long term thematic stock choice that will continue to be volatile.

$LVGO dropped into the red after partial lockup expiry and seems to be recovering.
I'm still down on $BZUN, $TWLO, and $ESTC but feel they still have compelling long term stories. $TWLO had a mid 40% revenue growth ER and guided to 30% revenue growth this year. This is likely a low ball estimate but we will see. 
$AYX Earnings
Alteryx absolutely smashed its quarterly earnings
Revenue up 75% for Q4

Gross Margins 93%

Op Margin 18%

Dollar based net retention rate of 130%

2019 Revenue $418M
There is nothing that any sane investor would complain about with these results.
More details available here:
https://investor.alteryx.com/news-and-events/presentations/default.aspx
$BABA Earnings
I don't own Alibaba but it is a co-investor in $BZUN and owns 17% of the company. Its ER is a good proxy indicator of the Chinese eCommerce market
Tmall online physical goods GMV, excluding unpaid orders, grew 24% year-over-year in the quarter ended December 31, 2019, with strong growth in fast-moving consumer goods ("FMCG") and consumer electronics.
https://www.alibabagroup.com/en/news/article?news=p200213
Not bad, but not particularly exciting to me. It gives a sense of what to expect when Baozun reports. The coronavirus is likely to have a negative impact on China ecommerce over the short to medium term….or maybe people will spend more while stuck @ home? I have no idea.
Additions
I added another 55 LVGO to the portfolio at approx 25.6, taking my total to 350 shares.
I will likely add another 50 LVGO to the portfolio and cap my position size there. 
Sells
None
Watchlist
$CRWD- AI-based cybersecurity platform
$GSX- Chinese education platform with incredible revenue growth
$LSPD.CA -Canadian POS platform and software
$PINS- Pinterest
$PAGS- Brazilian payments and micro merchant / digital bank company
$ROKU- Connected TV and streaming leader - Recent excellent ER
$SMAR- Collaborative software platform growing 50% YoY
$STNE- Another Brazilian SMB fintech and software platform - will be competing with PAGS soon
$SQ- US fintech company
$TLRA- Supply-side publisher for connected TV. Works with Hulu and merging with $RUBI
$TXG- manufacturer of next-generation genomics equipment
$YEXT - Brand search and AI platform for intelligence search based on brand info
Threads I've been involved in
Twitter 
A long thread of why having an investor mentality is a different thing to a trader's mentality. I am learning this - making expensive mistakes is the price of admission in stock markets. Optimise your processes, and you'll optimise your chances of success.
Reddit
https://www.reddit.com/r/FIREUK/comments/eqiomm/aggressive_growth_investing_for_the_long_term/
My portfolio investment approach and the use of a loan is outside the risk tolerance of most UK investors
What I've read/listened to this week
One of my favourite quotes on the long view is from Reminisces of a Stock Operator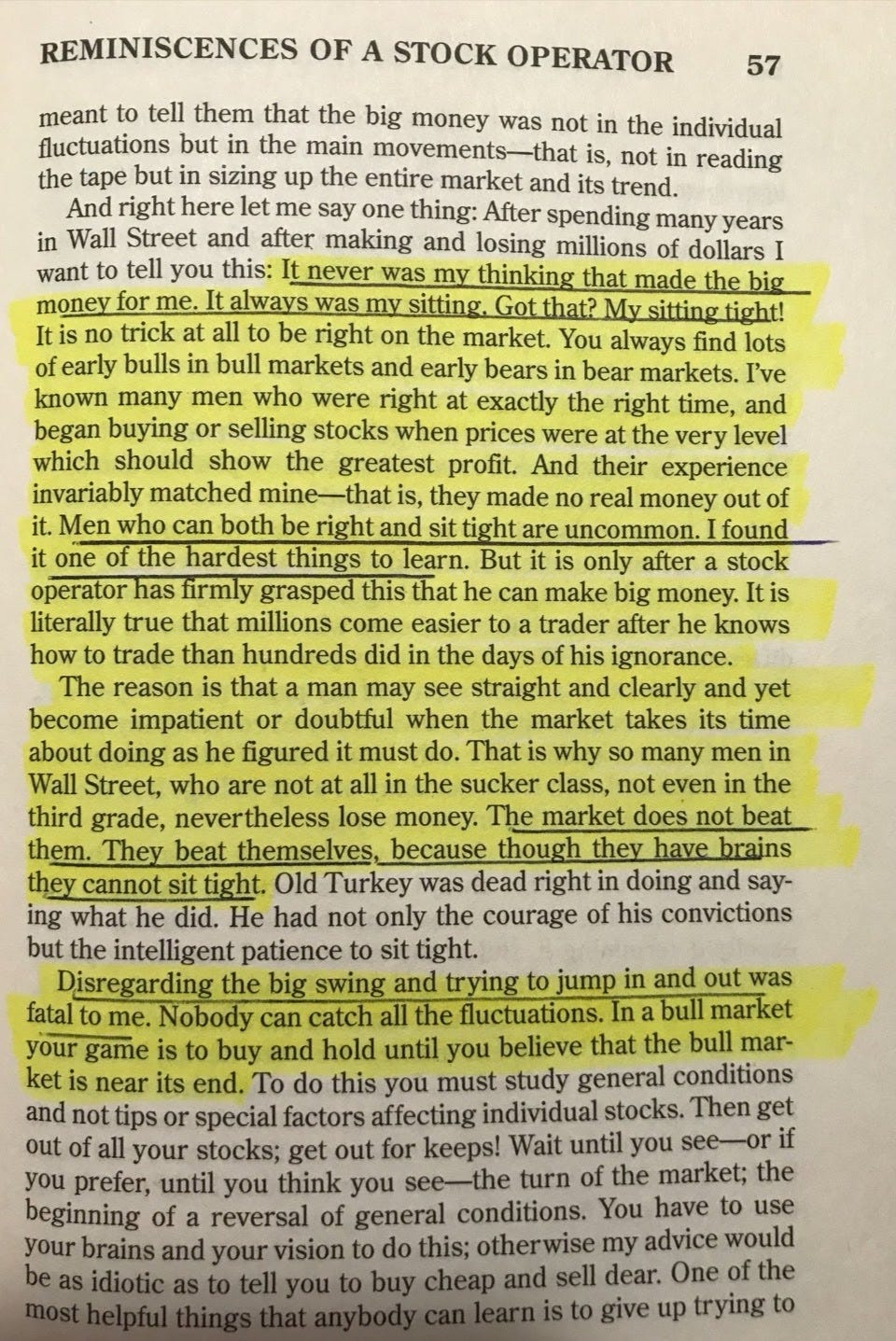 A great long-form letter from a fund on their thesis behind $ESTC (page 8)
https://static1.squarespace.com/static/5498841ce4b0311b8ddc012b/t/5e4703048934db2c06ec56ae/1581712134756/Greenhaven+Road+Letter+%282019+Q4%29.pdf
Podcasts Worth Your Time
Patrick O'Shaughnessy interviews Chetan Puttagunta of Benchmark Capital who was a VC investor in $MDB and $ESTC 
http://investorfieldguide.com/chetan/

Tobi Lutke of $SHOP Shopify interviewed by Reid Hoffman
https://mastersofscale.com/tobi-lutke-be-a-platform/
Upcoming Earnings releases
Invitae - Feb 19
ZScaler - Feb 20
Elastic - Feb 26
The Trade Desk - Feb 27


Finally
Thanks for reading. I'm still working on figuring out the right format for this newsletter. Let me know any suggestions on the format, content, what you'd like to see, or any question that you have!
If you've found this interesting, do share it with a friend!
Have a great week!